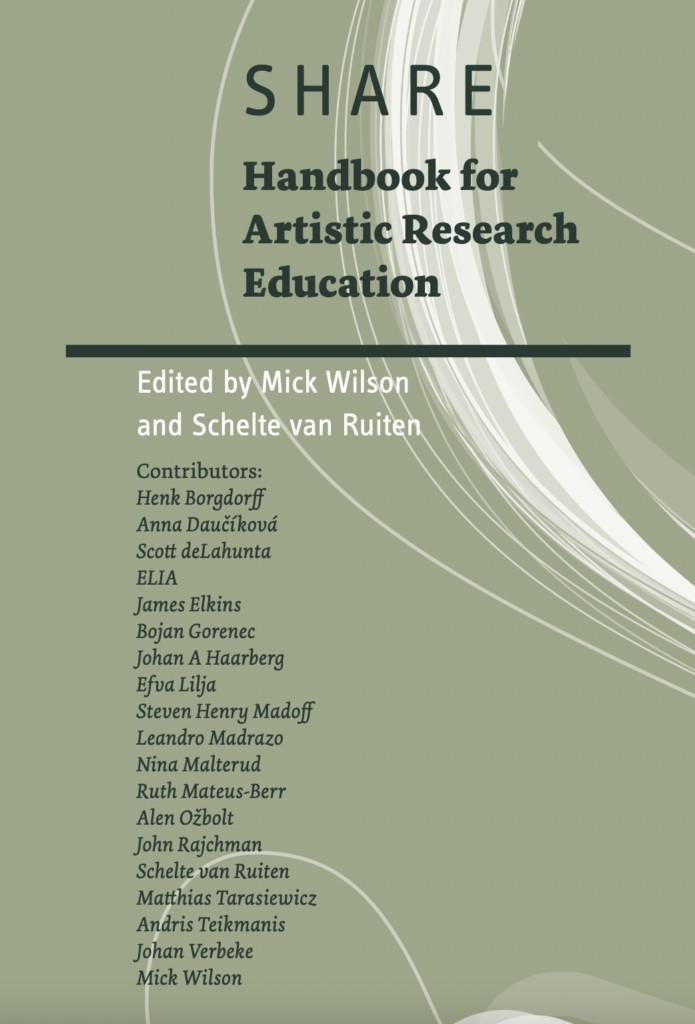 In the Context of Artistic Research Education: The opening part of this book consists of two chapters. The first of these attempts to outline the multiple genealogies and contexts of artistic research education in a way that seeks (I) to understand why the notion of artistic research is contested and (II) to identify some of the different factors underpinning the energetic contest of meanings and values which characterizes contemporary artistic research education.
Chapter two turns to the organizational bases of contemporary research education in the arts. In doing so, it deliberately juxtaposes the contested genealogy of artistic research, given in the preceding chapter, with a discussion of some of the practical strategies already prevalent in doctoral education in the arts. This is done in a bid to renegotiate the arguments from first principles ('Is research through art practice possible?'), paving the way for a consideration of actually existing practices and organizational strategies.
The proposal is that the debate on artistic research should be pursued, in substantial part, through attending to actually existing practices and production. This can best be done by attending to the forms and contents of already operative doctoral educations in the arts, and not predominantly through exchanges of meta-theoretical propositions on the nature of art or research by commentators.
Table of contents
Part One: The Contexts of Artistic Research Education
Chapter 1 The third Cycle in Arts Education: A Contested Construct
Chapter 2 Organisational Strategies and Platforms for Artistic Research Education
Part Two: Examples and Case Studies of Artistic Research
Chapter 3 Artistic Research Projects: Some Examples
Chapter 4 Case Studies
Part Three: Contested Values and Critical Debates
Chapter 5 Interventions: Position Papers and Dialogues
Chapter 6 Advocacy Strategies
Chapter 7 Judgments: the questions of Quality and Evaluation
Part Four: The Next Generation of Artistic Research Education
Chapter 8 Networking and Communities of Practice
Chapter 9 think about the Future
Part Five: Toolbox: Toolbox: Curriculum Resources
Chapter 10 Questions of Methods
Chapter 11 What is a Discipline?
Chapter 12 Art as a Context for Research
AUTHORS:
Henk Borgdorf
Anna Daučíková
Scot deLahunta
ELIA
James Elkins
Bojan Gorenec
Johan A Haarberg
Efva Lilja
Steven Henry Madof
Leandro Madrazo
Nina Malterud
Ruth Mateus-Berr
Alen Ožbolt
John Rajchman
Schelte van Ruiten
Matthias Tarasiewicz
Andris Teikmanis
Johan Verbeke
Mick Wilson
MD5: 2602D027792613CA30DC3CDE90A9DCD2